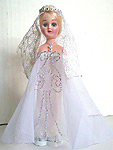 Your
bridal gown
Have a miniature copy of your bridal gown (or grandma's) displayed on a doll, as a symbol of your happy family. Give a surprise present to a loved one - a doll in her bridal gown.

Please send photos of the dress to info@aaadolls.com. Prices are based on
design and amount of required work. Allow three weeks for design & stiching.